Supporting Giving Tuesday With The Humane Society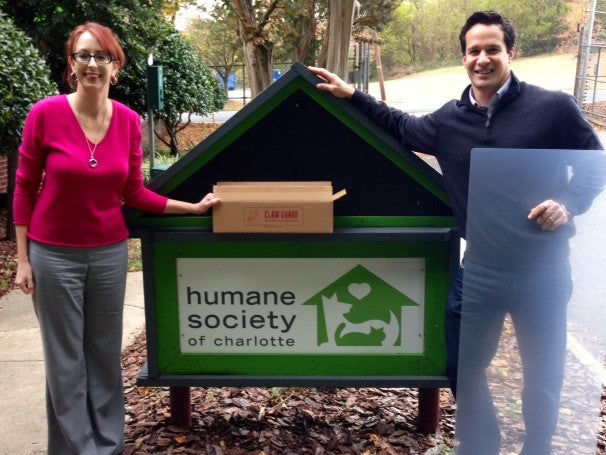 Clawguard is a long-pime artner of The Humane Society of Charlotte. This Giving Tuesday, join us and support your local animal rescue organization!
---
We are so much more than a company that offers products to protect your home from pet damage. Our goal is to give pet parents the opportunity to focus on training their pets with love through fear-free methods, but at the same time prevent damage to their home as effectively as possible. That's where our slogan of "Less Damage More LOVE" comes from.

But Clawguard doesn't solely focus on showing love to owned pets. Our company's mission of supporting local charities goes above and beyond a donation check.
Clawguard has long been a partner of local rescue shelters, including the long-time Charlotte organization, The Humane Society of Charlotte. From donating our Original Doorshields that were repurposed as protective covers for their kennels to providing large sheets of our marine-grade materials to help support their Community Cat TNR program, Clawguard has been with HSC every step of the way. 
How We Helped the Adoptable Animals at HSC
The Humane Society of Charlotte is currently in the process of building a new, state-of-the-art building that will give the animals in their care the most comfortable environment possible while they wait for their adoptive families, but until that time arrives, their out-dated building creates some interesting logistical problems.
Clawguard was able to help by donating our materials and providing temporary solutions to provide better comfort for their dogs and cats.

Because HSC's kennels are currently made of chain-link, adoptable dogs are directly beside each other, which can cause anxiety.

As such, we donated over 100 door shields that were then installed on the front of and in-between each kennel!
This gave each dog some privacy so that they weren't staring at each other nose-to-nose all day, everyday. The same was done for the front of HSC's cat condos. The simple installation of these our Original Door Shield, repurposed in a new way, eased some of these animal's anxiety.
Clawguard Steps In Again For Community Cats
Months later, we stepped up again to help HSC's Community Cat TNR Program. After community cats are humanely trapped and brought to HSC to be spayed/neutered, they are returned to their community homes. To prevent discomfort, anxiety and a mess,
We donated large sheets of our marine-grade shield material to the program to effectively separate the cats from one another as they woke up in their humane traps and returned to their homes.
While the Humane Society of Charlotte isn't the only charitable organization that Clawguard supports each month, we're proud to be a consistent, reliable partner for them anytime we're needed. This Giving Tuesday, join the Clawguard team and support your local animal rescue organization!